Truck Route from the East >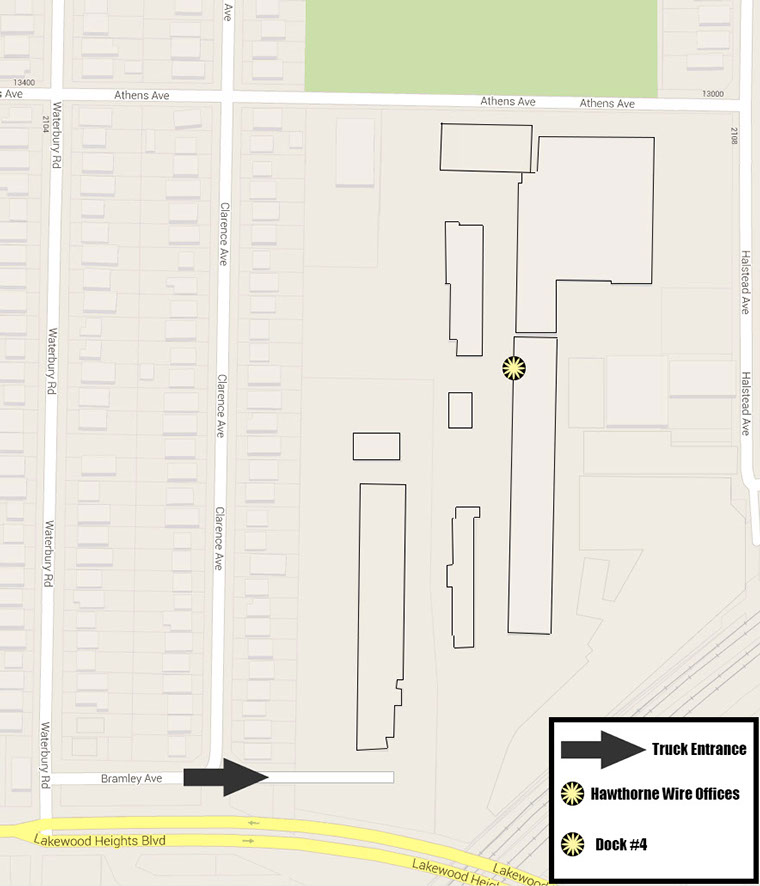 FROM THE EAST:
-Exit I-90 at West 117th Street – turn right (North) at top of ramp
-Go approximately ½ mile to Carbon Road (Home Depot on left) – turn left onto Carbon Road
-Take Carbon Road approximately ¼ mile to Berea Road and turn left onto Berea Road
-Travel approximately ¾ mile on Berea Road to Lakewood Heights Blvd. and turn left at Lakewood Heights Blvd.
-Lakewood Heights Blvd. will be a sweeping circular bridge, when on top of the bridge look to the right; the large industrial complex is our facility (former Lake Erie Screw Co.).
-At the bottom of the bridge turn right onto Waterbury Road and then an immediate right onto Bramley Avenue.
-Bramley Avenue will bring you into our property; you will pass an outside dock on the right side and then come to a stop sign at the guard house; turn left at that stop sign and proceed approximately 1,500 feet down the drive. Look for Dock # 4; it will be on your right side.
-Contact Matt (mroth@hawthornewire.com or call 216-712-4747 and ask for Matt Roth) upon arrival to arrange for unloading.